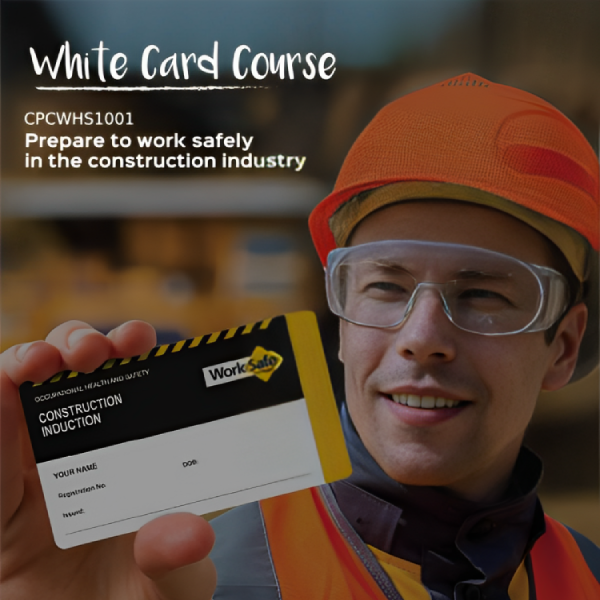 White Card Course
This unit of competency specifies the mandatory work health and safety training required prior to undertaking construction work.
$149.00
This unit of competency specifies the mandatory work health and safety training required prior to undertaking construction work. The unit requires the person to demonstrate personal awareness and knowledge of health and safety legislative requirements in order to work safely and prevent injury or harm to self and others. It covers identifying and orally reporting common construction hazards, understanding basic risk control measures, and identifying procedures for responding to potential incidents and emergencies. It also covers correctly selecting and fitting common personal protective equipment (PPE) used for construction work.
| | |
| --- | --- |
| Campus | 235 Ingles Street Port Melbourne Campus ( VIC ) |
| Unit Code | Unit Name |
| --- | --- |
| Core Units | |
| CPCCWHS1001 | Prepare to work safely in the construction industry |
Study Mode:
Face-to Face:
Students are required to attend 7 hours of face to face training (Including training, assessment and demonstration of skills)
Entry Requirements
There are no entry requirements as per Training Package. Below are the internal requirements by the college.
All Domestic students must be aged 16 years or over at the time of applying admission to the college for this unit
All International students must be aged 18 years or over at the time of applying for admission to the College
Valid Photo ID
Student must provide 100 points of ID as per (Work Safe agreement) at the time of enrolment and must be able to provide those original documents at the day of Training and assessment. Refer to this link for details of documents required per state for proof of identification.
https://orange.edu.au/wp-content/uploads/pdf/novacore/OIC%20Evidence%20of%20Identification%20.pdf
Resource Requirements
Students must have access to PPE items, which meet the Australian Standards for the practical demonstration during assessment. These items can be purchased at OIC on the day of training and assessment. This will include

Eye protection - AS1337.1 Personal eye protection - Eye and face protectors for occupational applications
Hearing protection - AS/NZS 1270 Acoustics - Hearing protectors
Head protection (hard hat) - AS/NZS 1801 Occupational protective helmets
High visibility reflective vest - AS/NZS 4602.1 - High visibility safety garments class day/night and AS/NZS 1906.4 - Retroreflective materials & High Visibility materials for safety garments
Academic Requirements
A basic understanding of the English language
Students must have sufficient language, literacy and numeracy (LLN) skills to do simple calculations, read, write and understand English, and provide verbal / written responses to questions in English to undertake training and assessment of the unit
Qualification
Upon completion of this unit of competency successfully, applicants would be able to obtain the Certificate of attainment and White Card will be issued by the applicable State body.
Q. I am an International Student; would I be able to do white card training at OIC?
Ans. Yes, we are CRICOS providers and Worksafe VIC approved RTO, you can do the training with us to get a white card.
Q. How long is the training for?
Ans. It is a full day course for 7 hours. You will get assessed after the training session on the same day.
Q. Can I do this course Online?
Ans. No, Worksafe VIC does not allow this training and assessment to be conducted Online. You would need to attend 7 hours of face-to-face training.
Q. When would I get my white card?
Ans. Once you complete the training and assessment successfully on the day, we would apply it for you. Worksafe Victoria will directly post it to your given address and you should get it approximately two weeks after completing the course.
Q. Would I be able to use my white card in any other state of Australia?
Ans. Yes, white card is nationally recognised. You may need to complete the transfer procedure of that state. Please refer to Worksafe Australia website for further details.